In the winter of 1978, 15 men gathered on a small beach in Hawaii to race extreme distances in swimming, cycling, and running – a race that changed the face of endurance sports forever.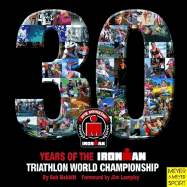 Since then, Ironman Hawaii has become one of the world's greatest sporting events.
"30 Years of the Ironman Triathlon World Championship" perfectly captures the essence of the event through spectacular photography and superb illustrations.
Discover the soul of the race, the emotions of the athletes, spectators, and volunteers.This will become an essential companion for anyone who has competed in the Ironman, or one day dreams of crossing the finish line.This book is a visually stunning celebration of 30 years of the ultimate endurance race – the Ironman Triathlon World Championship.